FRP lining Services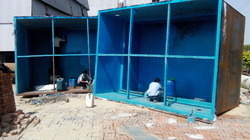 FRP lining Services
Product Description
FRP Lining Services
We are engaged in providing Surface Protection Services to a wide spectrum of several Process Based Industries, where exposure to rust, abrasion and chemical corrosion is common.

F.R.P. Lining Service help protect surfaces (substrate) either Plastic, Metallic or RCC against further degeneration and damage due to wear and tear and an attack of highly corrosive chemical substances.

F.R.P. Lining Service helps protect worn out installations such as Tanks, Containers, Vessels, Valves and Rain Water Gutters against further damage due to rust, harmful U.V. Rays, abrasion and corrosion.

In other words, FRP Lining helps in the following two ways:

1. Increasing the durability (longevity) of the surface (substrate)
2. Improving the operational performance and efficiency level

F.R.P. Lining is undertaken by reinforcing an appropriate grade of Un-Saturated Polyester Resin, Epoxy Resin or Vinylester Resin by Glass Fibre Matrix and Chemical Stabilizers after adequate surface preparation.